MV Drop Tester Model ESP5100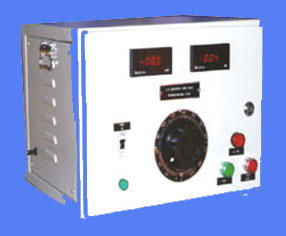 We also offer our clients the Mv drop tester which is been used to check drop across the test points at set current. The specifications of our tester are as follows:
5V/100Amp DC mV DROP TESTER:
SPECIFICATION

INPUT VOLTAGE

230VAC +/- 10% , 50Hz

OUTPUT VOLTAGE

0-5 V

FEATURES

»

MEASURING DROP VOLTAGE SLECTOR SWITCH 200mv to2V

»

OUTPUT OVER LOAD TRIP PROTECTION WITH AUDIO BUZZER

»

SET VOLTAGE/CURRENT, MANUALY BY VARAIC

»

METERING FOR OUT PUT CURRENT & mV DROP

»

INDICATING LAMP MAINS ON, O/P ON , O/L TRIP

»

ZERO START , STOP, RESET FACILITY

»

PROTECTION OVER LOAD & SHORT CURCUIT

»

LIFTING HANDLE MS POWDER COATED CABINET

»

MODE OF OPERATION : AUTO / MANUAL

APPLICATION

THIS UNIT IS USE FOR FAULT FINDING IN LOOSE JOINTS IN BUSBARS, CONTROL PANELS & DRY SOLDER.

DIMENSION

450 X 300 X 350MM
W D H

WEIGHT

35 Kgs. Approx.